Tuesday, February 5, 2008 at 4:54AM
It's been an exhausting couple of days. My partner had to hop over to California last minute to wrap-up some loose ends for Pizza Fusion. We landed in Los Angeles on Wednesday morning and immediately headed to Malibu where we met up with our brand new PF family member, David Whitworth. He and his wife will be opening 5 Pizza Fusion's in Malibu, Santa Monica, West L.A., Manhattan Beach and most likely Marina Del Ray. They are an awesome couple with two killer kids and we couldn't be happier to have them as part of the family. Not to mention, I will get to come to Cali more often. I am slowly falling in love with the West Coast more and more each day.

So after a very long day of driving around looking at locations we finally went to the hotel and crashed... hard. We woke up bright and early as we had a meeting in Torrance with the fine people at Honda. Our PR whiz, Eric, had setup a meeting with their Hydrogen Fuel Cell marketing manager so that we could drive their FCX car. I am very fortunate to be doing what I'm doing. I have finally found my true calling and have had the pleasure of meeting some amazing people and visiting amazing places. It's pretty cool that we are in a position to meet industry leaders in this eco-world we are living in. From speaking with farmers to picking our own crop of organic tomatoes that will go on every pizza, to speaking with CEO's from companies like Newman's and Organic Valley... it is a dream come true. Sorry... I got sidetracked!

Honda introduced the production version of its newest hydrogen-powered, fuel-cell electric car at the Los Angeles auto show last month and gave a few journalists the chance to delve a bit more deeply into the fourth-generation technology that makes this most advanced of the alternative fuel vehicles work. In simple terms, the Honda FCX Clarity is a ZERO-emissions car that uses Hydrogen and Oxygen and converts it to electricity! No oil-derived fuel is used... period. No gas & no oil. It is in essence an electric car with some punch! You can get a full education on the technology by CLICKING HERE.

The Honda FCX Clarity



OK... so what's the big deal you ask. Well, the big deal is that although they just announced this amazing news, the car is realistically 10 years away from mass production for the public. Honda won't sell the Clarity because, although technically a "production model", it still is largely hand assembled and is crammed with expensive technology that likely would require Honda to charge close to $1 million a copy to break even on! In 2008 they will hand select a small number of lucky drivers to "lease" the vehicle in the SoCal area for testing and data purposes.





So back to my story... thanks to Eric, we were granted a test-drive of this Million Dollar automobile. Mr. Stephen Ellis greeted us at the Honda Campus where he literally tossed us the keys and said "let's go"! We hopped into the car which was one of about 30 that are on the road. It was one of the "older" models and although it doesn't look like the car announced at the Car Show, it was not the body-style that all the excitement is about. So Michael took the driver's seat first and we whizzed away towards the street. Yeah... I said street. There was no closed-course with traffic cones. We weren't even given instructions... just drive Ellis said. The car had a "jet-like" whizzing sound as it accelerated. It reminded me of the sound a turbo car makes... sort of. It was very quiet and to our surprise packed quite a bit or torque from 0-30. This isn't a glorified golf-cart by any means! This was in-fact the future of automobiles we were sitting in! The car also boasts a navigation system with all of the hydrogen fuel stations were. Oh yeah, there are already fuel stations spotted across Southern California. People... this is real and it's here and Honda is charging the pack! Could you imagine the press release... "Pizza Fusion delivers it's food in only Honda Hydrogen Fuel-Cell automobiles!" I like the sound of that! We are very greatful to Mr. Stephen Ellis and the people at Honda for sharing this with us. As you know, we use Toyota's Prius as our flagship delivery vessel at all of our restaurants. After spending hours with Mr. Ellis and clearly seeing Honda's vision... that may all change. It's our mission to align ourselves with individuals and organizations like Honda. They are an inspiration to all of us!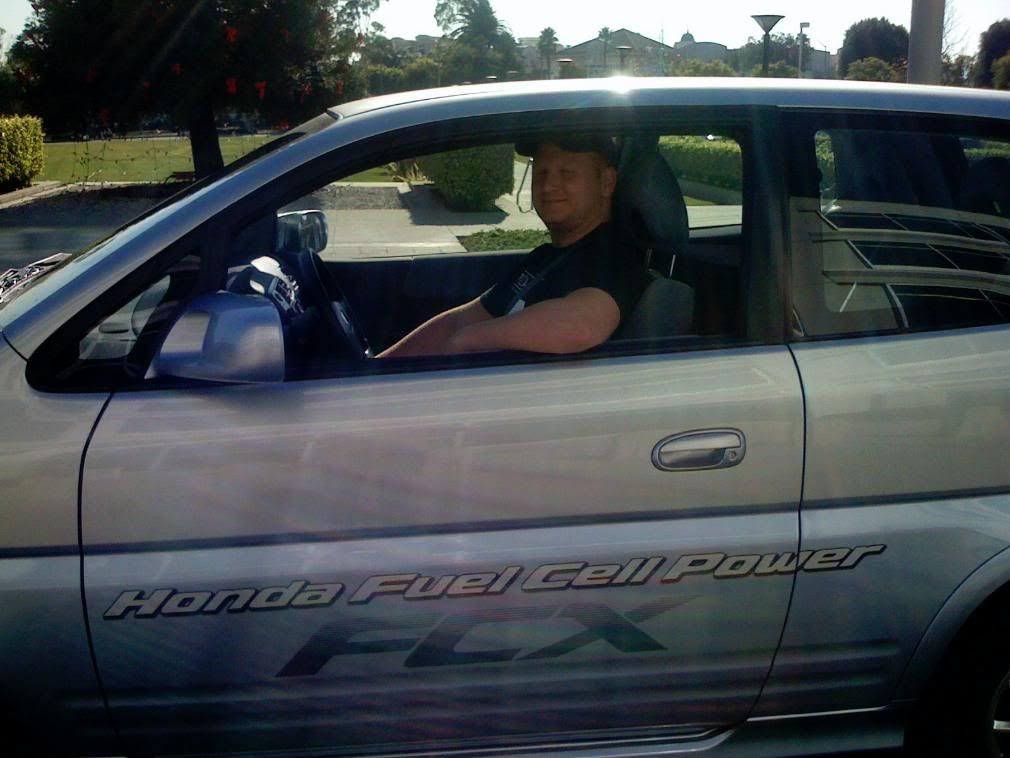 After I got my turn at the wheel of the FCX, we began heading down to Temecula where we met up with two more new PF family members... Mike Walker and Nima Noorzad. They are the franchisees of San Diego and Temecula respectively. As we pulled into the plaza where Nima's location was, we realized how amazing this spot was. It is on the main strip in Temecula nestled right next to Starbucks, Jamba Juice and Trader Joes just to name a few. We beat-up the realtor for a few minutes, talked shop with the GC and then headed down to San Diego to check out Walker's location. His was in a very hip and trendy Hillcrest area of San Diego. Again, Walker too selected a site within walking distance to Starbucks, Jamba Juice, Trader Joes and even a Whole Foods. His location is one half of an old theater. 3,100 Sq. Ft. has so much potential. We are meeting with a design firm out here to assist him with this location. It will most likely feature a bar that will boast over 100 organically grown wines and organic beers on tap! These two guys are already like family and we had a great time at dinner, where Nima introduced us to some delicious Persian cuisine! Michael and I were definitely feeling the time difference and our plans to "do the town" quickly turned into falling asleep at 9pm! LOL! Old farts!
We are headed to a meeting with the architect in an hour and then we are going to head back up North where we will be meeting with a potential franchisee in Thousand Oaks!
I'll be sure to keep you posted! Have an amazing day!
- V Lazar